Hoi An Ancient Town Place guide
Hoi An
Hoi An Ancient Town
Once a major port city, Hoi An's Ancient Town is an exceptionally well-preserved settlement that still manages to exude some old-world charm and remind visitors of its flourishing trading roots
Once a major port city, Hoi An's Ancient Town is an exceptionally well-preserved settlement that still manages to exude some old-world charm and remind visitors of its flourishing trading roots. Comprised of some 800 or more buildings, walking through this well-maintained city is like walking through a museum that reeks of 15th, 16th, and 17th history. 

It was the quintessential blend of local Vietnamese culture with foreign influence – as seen in the colorful medley of colonial houses, temples, pagodas, canals, wooden shophouses, and more – that brought this small town its UNESCO World Heritage site status in 1999.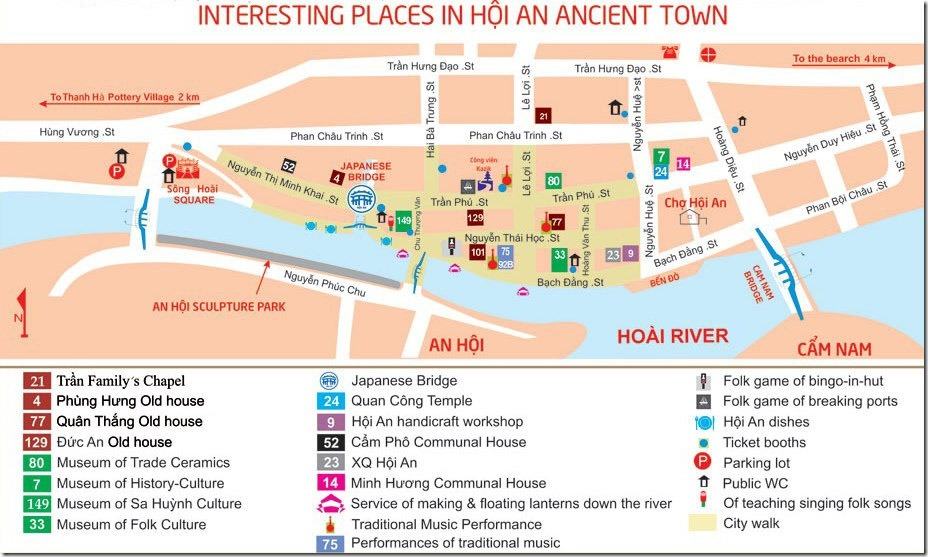 What to do: If you plan to walk around the Old Town without entering any of the buildings, then you don't have to shell out any money. But if you want to explore some of the heritage edifices, museums, assembly halls, houses, or watch a traditional music show, then getting a ticket is required. With this pass, you can visit 5 out of the 22 available areas:
Museums: Hoi An Museum, Museum of Sa Huynh Culture, Museum of Folk Culture, Museum of Trade Ceramics


Ancient houses: Quan Thang Old House, Duc An Old House, Phung Hung Old House, Tan Ky Old House, Nguyen Tuong Ethnic Church, Tran Family Chapel


Assembly halls: Fujian Assembly Hall, Guang Zhao Assembly Hall, Hainan Assembly Hall, Chaozhou Assembly Hall


Cultural attractions: Japanese Covered Bridge, Cam Pho Communal House, House of Tuy Tien Duong, Minh Huong Communal House, Quan Cong Temple


Ancient tombs of Japanese traders: Gu Sokukun, Tani Yajirobei, Banjiro


Church: Dang Trong
You can add this daily traditional art performance on your Hoi An to do list. It starts at 5:00pm in either 66 Bach Dang or 39 Nguyen Thai Hoc for a fee of VND 100,000 (US$4.30).

Entrance fee: Take note that the Hoi An Ancient Town entrance fee is VND 120,000 (US$5.15). If you want to visit more than 5 sites, you can always buy more tickets in one of the many ticketing booths or stalls around town; many of these sites are within walking distance of each other. Take note that most of the old town roads do not allow cars and other motorized vehicles to pass through them, making the only transportation options walking, cycling, or riding a cyclo.

Dress code: The Vietnamese dress rather conservatively, so modest attire is recommended as some of the homes that you'll visit are also private homes with local families living in them. Temples and churches also encourage conservative dress, so don't forget to cover your knees and shoulders, or bring cover-ups like a shawl to wear on top of your outfit.

Getting there: 
Located on the banks of the Thu Bon river, Hoi An Old Town can be found  in the center of the city. If you're coming from outside the city, a taxi, motorcycle, or bus may be the best way to get there. 


If you're coming from inside the city, the best way to get to the old town is by bicycle or on foot. 


If you want an organized walking tour, you can join a

Hoi An Ancient Town & Market Walking Tour

complete with tour guide and entrance fees.
Tours near Hoi An Ancient Town